Arizona...
It's been a crazy couple of weeks! In addition to my continuing home renovations (the kitchen is just about done, and my roommates' bathroom is about 85% complete), I had some friends visit for the onething conference and the Luke18 prayer summit here. Following their visit, we had our monthly 3-day fast and solemn assembly. And at the end of the fast I took off for a week visit to the warm land of Arizona.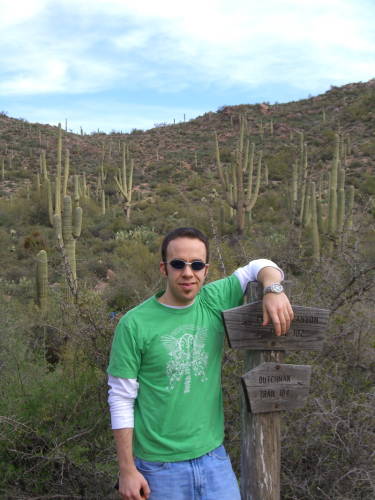 It was my first trip to the deep southwest. It is really amazing to see how much the landscape varies from one part of the country to another. I had never actually seen any kind of cactus up close until my visit. And I guess they are bigger than I always thought they were. But even after seeing them, I am still sure I would not want to fall into one of them.
I went to Arizona to visit a family I have known since 2003. I designed and maintain their business website, Dental Elite (free plug for you, Paul). The Zajas (pronounced "z-eye-iss") family and I connected because we attended the same church when I lived in NH. They have two sons and daughter that are around my age. One of them has already graduated from Arizona State University, and the other two are not far behind. My trip to Arizona was not only to help them with their business and website, but to visit with them and spend long overdue time with them.
Now normally any time away from IHOP, whether for a ministry or support raising trip, is a time of "pouring out" for me unto those I am speaking with or ministering to. But this trip to Arizona for me was out of the ordinary. I felt like I "poured out" but through so many people, prayer meetings, and situations I felt "poured into". I didn't want to leave – not just because it was sunny and 65 degrees there, but because I believe I genuinely connected with the Lord's heart for the city of Tempe and the greater Phoenix area.
I had the chance to be a part of several prayer meetings on the ASU campus with the students that were returning for the semester. Last semester, many of those same students at ASU participated in over 50 days of sustained 24/7 prayer on their campus. From that time, the Lord has been breathing upon the vision for revival and a house of prayer on campus. There are four graduates who have formed an organization called LoveASU that are standing and contending for a house of prayer there. I was able to spend hours with them just encouraging them and hearing their heart. It was so refreshing to hear their stories and the vision the Lord has given them, and it actually fueled my heart to stand with them in the place of intercession for revival in their city and school.
I attended one of their corporate prayer meetings at Danforth Chapel, a small chapel in the middle of campus. It was a warm evening, so the chapel doors were open to all of the students walking by. Worship was filling the center of campus. It was clearly a prophetic picture of the Lord's heart to fill the entire campus with His praise.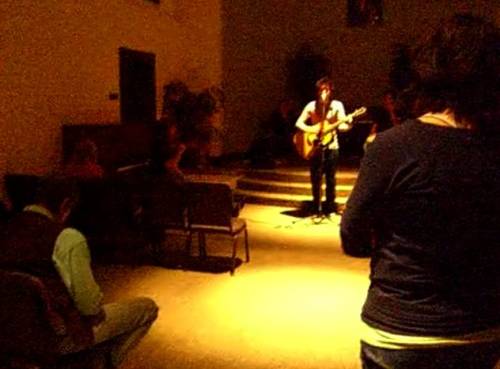 Perhaps one of the most encouraging things for me was to see the prophetic musicians and singers that the Lord is raising up on the campus. The worship team at the evening prayer meeting played with such humility and sensitivity to the Spirit, their desire to live and play before His eyes was evident as they worshipped. I later connected with the team and even more with the worship leader, Jon, who the Lord is clearly calling to be a prophetic musician and singer in the prayer movement. What was so encouraging to me was to see that it's not just happening in isolated spots, but the Lord's zeal for anointed music in the context of night and day prayer is becoming the vision for so many young people all over the place.
The Lord has big plans for ASU. I am so excited and privileged to sow into them through intercession!
Can't you tell what I'm praying for today? :)