Happy New Year!
It's 2008 and the onething conference is over, but the fun at the Hawkins home still continues! I have several guests and friends from across the nation packing out my house for the next few days. A few of them are staying longer for the Luke18 Project leadership summit and the rest of them are hanging around to spend a few extra days in the prayer room.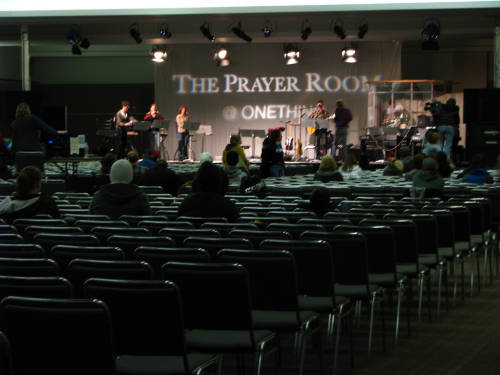 The conference was awesome. The highlight for me (as in previous years) was the conference prayer room. Our worship team played the Sunday 10am set and sang through Philippians 2:5-11, highlighting the deity and humanity of Jesus. The room was 80% full and connected with us the whole set. What struck me in a new way once again is that the One from eternity past, dwelling in unapproachable light, took on flesh for our advantage and our gain and will reign on the earth forever and ever. It's our glory to search out this truth that Paul in 1 Timothy 3:16 calls a "great mystery"!
"And without controversy great is the mystery of godliness:
God was manifested in the flesh,
Justified in the Spirit,
Seen by angels,
Preached among the Gentiles,
Believed on in the world,
Received up in glory."
(1Tim 3:16 NKJV)
There's a lot that will be happening here and with me over the next couple of weeks... So definitely look for more updates later on. In addition, I'll be posting some new photos and teachings from the conference for your encouragement.
Did you catch any part of the conference or TheCall on GodTV? What was the highlight for you?