Arizona visitors, food, and the rest of life
Arizona visitors, food, and the rest of life
I had the privilege of hosting some really cool people from the fine state of Arizona this past week...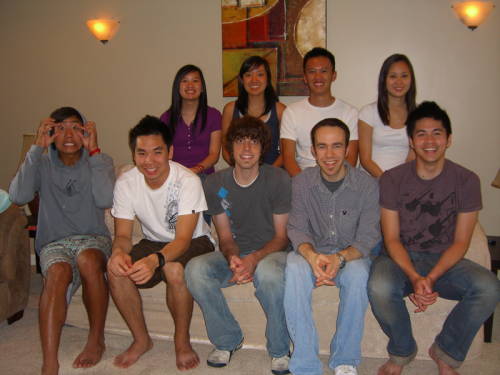 The guys stayed at my place and the girls stayed with my parents just a few miles down the road. They came to spend some time at IHOP and to be refreshed in the Lord. I had met Jon (the guy sitting on my left) and Randon (the guy sitting above me) beforehand on my trip to Arizona last January but they brought along some of their friends. (The guy to my right is Tim, my roommate...) The world needs more people like all of these guys. They were so meek, so thankful, and each of them had the heart of a servant. I truly did not want them to leave!
Now I was amazed that they all unanimously decided to eat at the local Western Sizzlin restaurant, despite what I had heard about their reputation of poor quality. Apparently Mike Bickle, the leader of IHOP, would always take some of his out of town special guests there (because it was cheap and it had variety) but it always seemed to lack quality compared to many other local South KC food offerings like Jack Stack or Gates BBQ or Dos de Oros. The entire group seemed to enjoy it, though, so maybe, just maybe, I'll have to give "The Siz" a try someday.
On to the topic of food. It all started in February when I visited my dad's place in Colorado for a week. My younger brother was finally able to come out and visit. Some of you might already know, but he has a degree in culinary arts. He cooked a very tasty meal for us one evening, and I was completely amazed at how easy it was. He gave me so much courage to actually try to make more than spaghetti and meatballs or frozen pizza and salad for dinner. I've made things from marinated bbq chicken to meatloaf and chicken spiedini. Tonight I think I'm going to make chicken with black beans and rice again. So good! I can't say that my experiments as an amateur chef have not come with several difficulties. I'll just say this - when a cookie recipe calls for white flour, don't use wheat flour!
Well, the rest of life is going well too... Installing drywall and grouting tile are some other skills I've picked up this year. Owning a home is certainly an adventure!
Back to spiritual topics next week when I have a working computer to post from :)