Blog Archive - November 2007
The archives of The Sun Will Rise, organized by month.
Along with a little bit of snow yesterday came some unbelievably frigid temperatures here in Leadville, Colorado: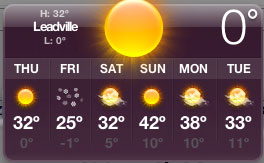 Brrrr!!!!!
Happy thanksgiving to you, my dear family, friends, and supporters, and my awesome readers, lurkers, and audio downloaders! :)
I am grateful today for the Lord's kindness to me when I did not deserve it. God's leadership of my life is flawless... I am a stranger and a pilgrim here on the earth, and my real home is a city whose builder and maker is God. The gift He has given me is indescribable.
"But God, who is rich in mercy, because of His great love with which He loved us, even when we were dead in trespasses, made us alive together with Christ (by grace you have been saved), and raised us up together, and made us sit together in the heavenly places in Christ Jesus, that in the ages to come He might show the exceeding riches of His grace in His kindness toward us in Christ Jesus. For by grace you have been saved through faith, and that not of yourselves; it is the gift of God"
(Eph 2:4-8 NKJV)
What are you thankful for today?
Continue reading
I'm spending Thanksgiving once again this year in the beautiful expanse of Leadville, Colorado again where scenes like this one are common place: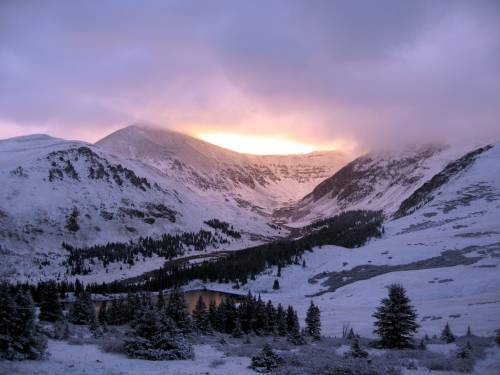 My dad took that photo with his Canon PowerShot digital camera back at the beginning of October.
Now if that does not provoke you to jealousy, I am not sure what will! :)
Look for some new photos in my gallery when I return. Maybe they'll be as awesome as my dad's...
Happy Thanksgiving!
Continue reading
We all know how important it is as believers to read the Word and to pray. But if you're anything like me, growing up I always compartmentalized and separated my prayer and reading time. I'd read a few chapters, then close my Bible and spend a few minutes in mostly unfocused prayer before becoming distracted and bored. There was nothing sinful or wrong with the way I prayed and read, and I'm confident the Lord was well-pleased in my attempts to love Him by spending time with Him.
However, I later realized there was a much more exciting way to have a quiet time with the Lord. I would look at my Bible reading time solely as a time to learn the stories, memorize the verses, and gain greater understanding of what the passages were saying.
Continue reading