Blog Archive - December 2007
The archives of The Sun Will Rise, organized by month.
"Anyone contemplating the life of Jesus needs to be newly and more deeply aware every day that something scandalous has occurred: that God, in His absolute being, has resolved to manifest Himself in a human life. He must be scandalized by this, he must feel his mind reeling, the very ground giving way beneath his feet; he must at least experience that 'ecstasy' of non-comprehension which transported Jesus' contemporaries (Mark 2:12, Mark 5:42, Mark 6:51)." - Hans Urs von Balthasar
The phrase I always heard growing up around Christmas time was "Jesus is the reason for the season". Amidst the gift giving and turkeys (or lasagna if you're in my family) I've always taken just a little time to reflect on that little baby lying in a manger - whether it be at church on Christmas eve or for a few moments before opening presents on Christmas morning.
But I often wonder how different my life would be if I truly understood in my heart what I was pondering all of those years.
Continue reading
The year-end onething young adult conference here in Kansas City is two weeks away! The base has been gearing up to host 20,000 young adults in our "living room" - we're moving the prayer room and everything we do to Bartle Hall in downtown KC for 4 days starting December 28th.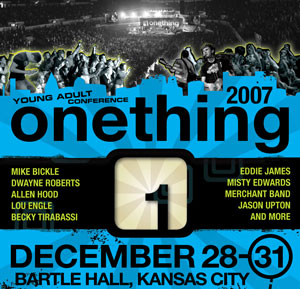 There is a great anticipation of what the Lord is going to do this year. We're finally back in Bartle Hall again this year. There's been several dreams and prophetic words given over the years about what the Lord will release through gatherings in this building. One specifically said that the banner over the gatherings in the building would be "Holiness unto the Lord" and that He would release a "new way" to holiness (holiness motivated by intimacy with Jesus). I'm confident that the Lord is going to release a measure of it this year to those attending the conference.
Continue reading
I've been doing some research on the old hymn writers for the next post in my prophetic music series and came across an awesome little tidbit of information on the late and famous John and Charles Wesley and their desire to give every bit of themselves to the Lord and to walk in holiness. These guys weren't just a couple of songwriters - they were men committed to a deep life of consecration before the Lord!
From http://ctlibrary.com/3284 :
John and Charles Wesley and a handful of other Oxford students devoted themselves to a rigorous search for holiness and service to others.
The Holy Club, the name given to John and Charles Wesley's group by their fellow collegians in mockery of their emphasis on devotions, was the first sign of what later became Methodism. Begun by Charles and led by John after his return to Oxford University in 1729, the Holy Club members fasted until 3 PM on Wednesdays and Fridays, received Holy Communion once each week, studied and discussed the Greek New Testament and the Classics each evening in a member's room, visited (after 1730) prisoners and the sick, and systematically brought all their lives under strict review.
Continue reading