Blog Archive - February 2008
The archives of The Sun Will Rise, organized by month.
I've been in Colorado visiting my family this past week. I really miss KC and the house of prayer! For this year's visit, my younger brother flew in from New Hampshire.  It's awesome to have him here! It's his first visit to Leadville and the Rocky Mountains. We've been skiing a lot this week, and I've learned several new terms that you need to know if you're a flatlander or have never skied in the Rockies before. Don't leave home without this guide!
Continue reading
It's sunny and 70 today, probably one of the most beautiful days it's been in a while. But in typical Kansas City fashion, winter will be back in full swing tomorrow. Take a look at the forecast: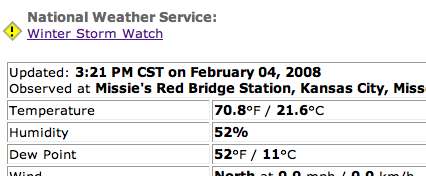 If it wasn't Kansas City, I'd think "Winter Storm Watch" was a very early April fools joke from the weather forecasters or something.
Well, it's day 1 of our monthly 3-day fast. I've been spending some time praying through Ephesians 2 and 1 Peter 1. Perhaps some thoughts on the blog tomorrow...
Continue reading