Along with a little bit of snow yesterday came some unbelievably frigid temperatures here in Leadville, Colorado: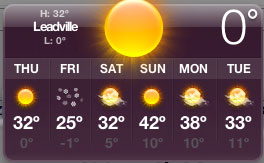 Brrrr!!!!!
Happy thanksgiving to you, my dear family, friends, and supporters, and my awesome readers, lurkers, and audio downloaders! :)
I am grateful today for the Lord's kindness to me when I did not deserve it. God's leadership of my life is flawless... I am a stranger and a pilgrim here on the earth, and my real home is a...