It's sunny and 70 today, probably one of the most beautiful days it's been in a while. But in typical Kansas City fashion, winter will be back in full swing tomorrow. Take a look at the forecast: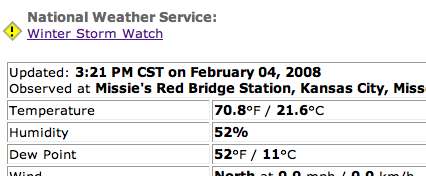 If it wasn't Kansas City, I'd think "Winter Storm Watch" was a very early April fools joke from the weather forecasters or something.
Well, it's day 1 of our monthly 3-day fast. I've been spending some time praying through Ephesians 2 and 1 Peter 1. Perhaps...