Interview with Francisco Arteaga, drummer
Interview with Francisco Arteaga, drummer
This is another post in my "Prophetic Musician Interviews" series. If you haven't read the first one with Gabriel Hancock, be sure to check it out, and be sure to check out the next one with Jordan Vanderplate here. Today's interview is with Francisco "Paco" Arteaga, a drummer here at the house of prayer. Paco and I used to play together with Todd Ganovski before he moved to Nashville to help with the house of prayer there. Paco has most recently been playing for Misty Edwards, one of the main worship leaders here at IHOP.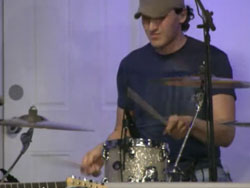 Josh: Hey Paco, thanks for taking the time to share your thoughts with us. Before we jump in, give us a little of your story.
Paco: I was born and raised in Puerto Rico and moved to the states when I was about 12 years old, first landed in Michigan then moved Orlando, Florida. There was when my parents heard Mike Bickle preaching about the house of prayer at a conference and that's when they decided to move to KC. My parents moved us to Kansas City around 8 years ago to join IHOP. I didn't like it at all at first, but after a couple of months I began to see what was happening here and my little world changed. I did the very first Fire in the Night Internship (I got saved there, no joke). I tried to go to college after the internship for about a year to get degree in either music or culinary arts (I couldn't make up my mind) but that was re-routed by God because He had a different plan for me. I've been here at the House of Prayer full time ever since. In June 2005 I got married to my beautiful wife Liesl and now we're about to celebrate our 3 year anniversary. Time is flying by! I've been playing drums now for about 8 years and my favorite thing in the whole wide world is "Reggaeton" music; that beat just never gets old to me even after 15+ years of every song using the same beat (just kidding)...
Josh: That's funny! So you've been playing sets at IHOP for years now. I remember the good old days when we played with Todd. We had many good sets, but many "dry" sets where we wished we could just press the big "delete" button. As the years have gone by, what can you say has been most helpful to you in connecting with the Lord as you set up for yet another set?
Paco: We'll, when I play a set at the house of prayer, before I start playing I like to acknowledge the Holy Spirit and pray a quick 10 second prayer (acknowledging my dependence on Him alone). This is so simple I forget to do it sometimes but I see the more I do it I have better sets. I have found that to "connect" with the Lord during a set is to have living understanding and revelation in my heart and my mind of the word of God or the passage we're trying to develop as a team. If I have no idea what the passage means or what I'm trying to support musically then it is hard to connect as I'm playing. I play so much different once I encounter the truths and have revelation of the word of God in my heart. As opposed to just laying a beat down and hoping something cool happens during those 2 hours, I try my best (not always of course) to connect with the word of God and play the heart of the scripture behind it (supporting it musically). There are of course sometimes when I don't really pay attention to the passage of scripture and I just play and have a great time. So this thing is an imperfect science, and all of us here are still discovering many new things as we do this on a daily basis. I've just found over the long haul to keep your heart sustained and not grow weary during sets is to have an understanding of the word of God personally and also in a team dynamic.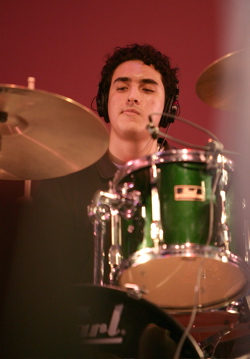 Praying while I play or singing in the spirit and signing the choruses is also another great tool to go about this. And for our intercession sets I just pray in my spirit as I'm playing and ask the Lord for the spirit of prophecy. It is important not to strive or get stressed out as we go about playing sets, because with me the more peace I have the better I play. So having a restful heart and mind is vital to avoid striving to come up with something on our own accord. We do our part and the Holy Spirit will do His.
Josh: I've found the same thing. And you're absolutely right that it's an imperfect science. But the reality of just connecting our heart with the Lord in the simple ways like praying in the Spirit, acknowledging the presence of the Holy Spirit living inside of us, and singing the songs and choruses is not difficult or complex and really has a profound impact on our musicianship and "connectedness" to the set. As you've done this, do you have any memories of any sets or worship times that you would consider the most powerful or the most moving for you?
Paco: Oh man. I've had some powerful times in worship. I don't know if I've ever had "the most powerful one" but there have been a handful of them. I recently just got back from Israel and I had an awesome time in a worship set we did at a house of prayer in Jerusalem. There's been so many, but honestly the best times have been when there's really no one in the prayer room or just regular sets we do at IHOP. There has been very few awesome times in large gatherings, which is kind of ironic. I like the intimate times of worship by far the best.
Thanks so much bro!
Look for part 2 of Francisco's interview next week.