Have you read this one?
I've been on the lookout for a new Sermon on the Mount commentary lately. I have the standard Martyn Lloyd-Jones' and John Stott ones, but I picked up this one the other day: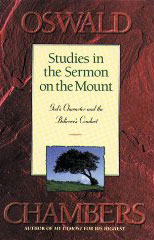 While I'm waiting for it (even though it takes a while, I love free super-saver shipping from amazon.com), somebody clue me in... Have you read this one? It was only $8 and I figured anything by Chambers or Spurgeon is quality...
I'll let you know how it is when I get it next week! :)