The Lord is so kind!
Ok. Sparing all the details, this is just a phenomenal testimony of the Lord's goodness. Last year I bought this 2000 Mitsubishi Galant. It died on the highway back in early August:
I prayed and asked the Lord to give me reliable transportation - either the funds and knowledge to fix the dead car or another vehicle altogether. Through a series of ridiculous circumstances with provision and offerings from many people, some totally unexpected and others absolutely extravagant, the Lord gave me this new car: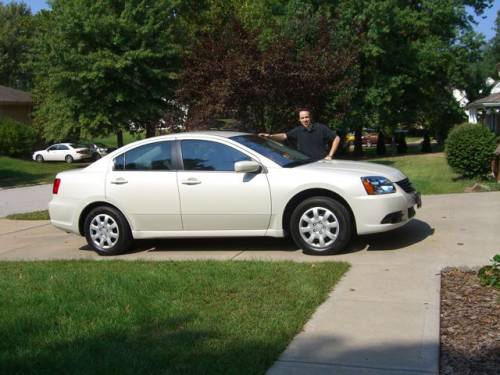 It's a brand new 2009 Galant. It had only 5 miles on it when I drove it off the lot! Unbelievable!!!
I am so grateful for the Lord's provision and love for me! I still have a small loan to pay off on the car, but the Lord is even making a way for monthly offerings for the loan too.
The best part about this process is how the Lord molded and shaped my heart in the midst of the two months of not having a car. Each step of the way, I committed to giving Him my worship and my love. I felt such peace and joy even from the moment that my car broke down. Kurt was in the car with me when it died and is my witness of the peace that just came over us! :)
All I can say is if you have never given money out of your need, do it! I'm not saying go into credit card debt - just to be extravagant with what you already have. The Lord invites us to test Him in the area of finances and provision (Malachi 3:10). As we give, His promise is that He would return it to us in ways that would blow our mind. That's exactly what He did for me with this car!
To all of you who gave financially, prayed, gave me rides, and encouraged me - thank you so much.