Have you been encouraged by my insights on the Word of God through this blog and my articles?
Help me to become an even greater student of the Word of God!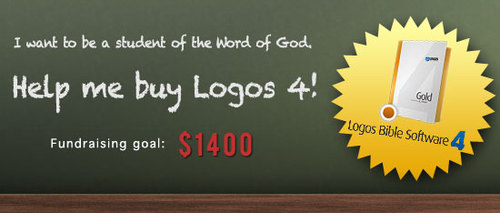 Logos Bible Software version 4.0 is the most amazing piece of Bible software available today. From Bibles, commentaries, and original language lexicons to maps, illustrations, and animations, Logos is the premiere Bible study tool for anyone from the daily reader to the scholar and original language expert.
I'm looking to raise $1400 to be able to buy the "Gold" version of Logos 4.0. The "Gold" version has over 950 Bibles and Bible reference books worth almost $15,000 in print. The price of Logos 4.0 Gold is $1379.95.
If you've been blessed by my blogs or articles, if you're looking to be generous towards an intercessory missionary laboring to give God the attention He is due, to see the gospel go to the ends of the earth in power, and to empower a messenger with the truth of God's word, would you consider donating a special gift towards my purchase of Logos 4.0?
If you'd like to make a tax-deductible donation, contact me and I will give you details on how to send the gift.
Donate through Paypal or with a debit/credit card here:
(If no button shows above, you can use this link.)
Keep track of the fundraising progress on this page.
What better thing to be fundraising for than to have a greater understanding of the eternal Word of God and the Scriptures? Bless you for your generosity in helping me become a better student of the Scriptures!